Dentler-Segall Design and Build Home
---
arketype Designer-led Design/Build
Michael Kwiecinski Photography
This new residence replaces the original 1906 home in the heart of an eclectic early 20th century beachside Carpinteria neighborhood. The one and a half story 2,000 square foot home is placed on a narrow site with driveway easements on both sides, one serving a two-story triplex condominium building to the east and two single-story bungalows on to the west. The contemporary home was designed to fit into the scale of its surroundings, utilizing board and batten siding, natural wood and stone materials that reflect elements found the neighborhood, including the historic front yard stone wall that was built with the original home.
The entry to the home has a generously sized front porch that invites conversation between neighbors. The second story, containing the main bedroom suite, occupies less than a third of the building footprint and steps back from the bottom story on three sides to ensure privacy among neighbors. The length of the second story opens onto a roof deck that takes in sunset and mountain views. The interior of the home is flooded with light utilizing large glass openings and clerestory windows. The south side of the building features random rectangular window sizes with colorful shadow boxes that that protect privacy while providing shading, light and natural ventilation.
The living, kitchen and dining spaces are open from the front to the back of the home that opens onto a deck and yard. The existing detached garage at the rear of the property was remodeled to provide access off of the south driveway easement and is enhanced with a new glass wall and window dormer. California native plants and a few fruit trees envelop the building in a climate-appropriate residential landscape.
The owners, Deborah and Tony, are passionate about environmental sustainability, which is what led them to arketype architects. The home includes numerous durable and eco-friendly features such as rain screen siding, recyclable materials, renewable materials, polished concrete floors, solar power and low energy usage equipment.
---
Media
Coastal View
" Tomorrow home today "
– Feature –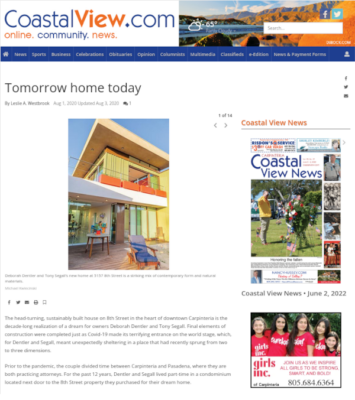 ---
More Photos: